text.skipToContent
text.skipToNavigation
This site is optimized for Chrome, Edge, Firefox, and Safari. You may not have the best user experience in your current browser.
Rüsch® Polaris™ Single-Use Fiber Optic Laryngoscope Blade - Miller 00
Product review summary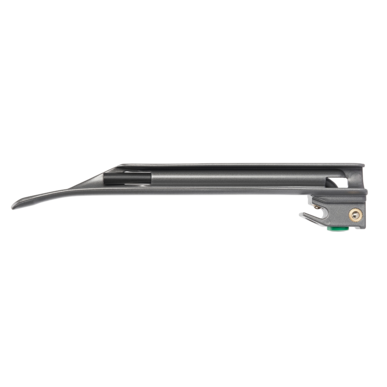 Representative image. Actual product may vary.
View All Additional Items
Please see the Instructions for Use for a complete listing of the indications, contraindications, warnings, and precautions.
Macintosh Blades

ITEM NUMBE

R

DESCRIPTION

OVERALL LENGTH

DISTAL WIDTH

COLOR CODE

4150100

Mac 0

85 mm

10.7 mm

Peach

4150110

Mac 1

94.5 mm

9.9 mm

White

4150120

Mac 2

111.0 mm

13.0 mm

Blue

4150130

Mac 3

133.0 mm

14.0 mm

Yellow

4150135

Mac 3.5

145.0 mm

14.5 mm

Red

4150140

Mac 4

149.0 mm

13.0 mm

Pink

4150150

Mac 5

159.0 mm

14.5 mm

Dark Yellow

Miller Blades

ITEM NUMBER

DESCRIPTION

OVERALL LENGTH

DISTAL WIDTH

COLOR CODE

4150003

Miller 000

60 mm

7 mm

Light Green

4150002

Miller 00

66.5 mm

12.8 mm

Beige

4150001

Miller 0

78.0 mm

12.8 mm

Violet

4150010

Miller 1

103.0 mm

12.8 mm

Orange

4150015

Miller 1.5

124.0 mm

12.8 mm

Dark Blue

4150020

Miller 2

154.0 mm

13.5 mm

Grey

4150030

Miller 3

195.0 mm

13.5 mm

Green

4150040

Miller 4

205.0 mm

19.0 mm

Lavender

Whis-Hipple Blades

ITEM NUMBER

DESCRIPTION

OVERALL LENGTH

DISTAL WIDTH

COLOR CODE

4151000

Wis-Hipple 1

102.2 mm

9.2 mm

Light Yellow

4151500

Wis-Hipple 1.5

117.8 mm

10.8 mm

Light Grey

Phillips Blades

ITEM NUMBER

DESCRIPTION

OVERALL LENGTH

DISTAL WIDTH

COLOR CODE

4150011

Phillips 1

113.1 mm

11.6 mm

Brown

4150022

Phillips 2

165.1 mm

16 mm

Dark Pink