text.skipToContent
text.skipToNavigation
This site is optimized for Chrome, Edge, Firefox, and Safari. You may not have the best user experience in your current browser.
Rüsch® Safety Clear® Uncuffed Endotracheal Tube - Size 6.0
Product review summary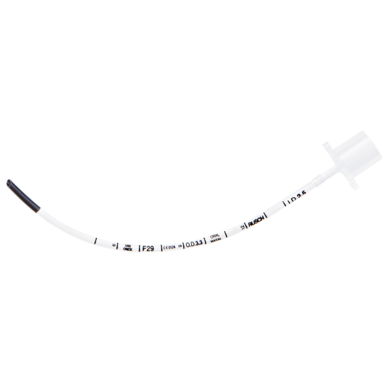 Representative image. Actual product may vary.
View All Additional Items
Please see the Instructions for Use for a complete listing of the indications, contraindications, warnings, and precautions.
| | | | | |
| --- | --- | --- | --- | --- |
| ITEM NUMBER | ORDER SIZE / I.D. | O.D. | LENGTH* | LENGTH BLACK TIP |
| 100382025 | 2.5 mm | 3.3 mm | 160 mm | 20 mm |
| 100382030 | 3.0 mm | 4.0 mm | 170 mm | 20 mm |
| 100382035 | 3.5 mm | 4.7 mm | 190 mm | 20 mm |
| 100382040 | 4.0 mm | 5.3 mm | 210 mm | 30 mm |
| 100382045 | 4.5 mm | 6.0 mm | 230 mm | 30 mm |
| 100382050 | 5.0 mm | 6.7 mm | 250 mm | 40 mm |
| 100382055 | 5.5 mm | 7.3 mm | 280 mm | 40 mm |
| 100382060 | 6.0 mm | 8.0 mm | 290 mm | 40 mm |
| 100382065 | 6.5 mm | 8.7 mm | 300 mm | 40 mm |
| * Length without connector | | | | |