text.skipToContent
text.skipToNavigation
This site is optimized for Chrome, Edge, Firefox, and Safari. You may not have the best user experience in your current browser.
Rusch® Color-Coded Guedel Airway - Size 3
Product review summary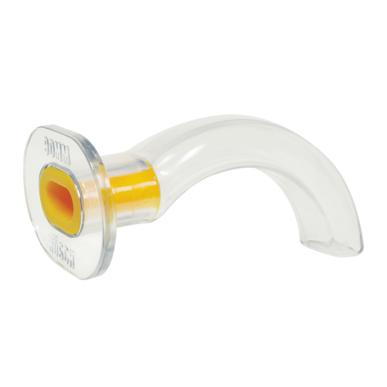 Representative image. Actual product may vary.
View All Additional Items
Please see the Instructions for Use for a complete listing of the indications, contraindications, warnings, and precautions.
Rusch® Color-Coded Guedel Airway - Size 3
Key features of the Rusch® Color-Coded Guedel Airway include:
• Smooth finish and rounded edges
• Color-coded for easy identification
• Reinforced bite block designed to prevent occlusion
• Full range of sizes and convenient packaging options
MC-007648
| | | | | | |
| --- | --- | --- | --- | --- | --- |
| ITEM NUMBER | SIZE | LENGTH | ISO STANDARD SIZE DESIGN | COLOR | CASE QTY |
| 22350 | 0 | 50 MM | 5 | Blue | 10 |
| 122360 | 1 | 60 MM | 6 | Black | 10 |
| 122370 | 2 | 70 MM | 7 | White | 10 |
| 122380 | 3 | 80 MM | 8 | Green | 10 |
| 122390 | 4 | 90 MM | 9 | Yellow | 10 |
| 1223100 | 5 | 100 MM | 10 | Red | 10 |
| | | | | | |
| 122550 | 0 | 50 MM | 5 | Blue | 50 |
| 122560 | 1 | 60 MM | 6 | Black | 50 |
| 122570 | 2 | 70 MM | 7 | White | 50 |
| 122580 | 3 | 80 MM | 8 | Green | 50 |
| 122590 | 4 | 90 MM | 9 | Yellow | 50 |
| 1225100 | 5 | 100 MM | 10 | Red | 50 |
| ITEM NUMBER | SIZE | LENGTH | ISO STANDARD SIZE DESIGN | COLOR | CASE QTY (INDIVIDUALLY PACKAGED) |
| 122450 | 0 | 50 MM | 5 | Blue | 10 |
| 122460 | 1 | 60 MM | 6 | Black | 10 |
| 122470 | 2 | 70 MM | 7 | White | 10 |
| 122480 | 3 | 80 MM | 8 | Green | 10 |
| 122490 | 4 | 90 MM | 9 | Yellow | 10 |
| 1224100 | 5 | 100 MM | 10 | Red | 10 |
| | | | | | |
| 122650 | 0 | 50 MM | 5 | Blue | 50 |
| 122660 | 1 | 60 MM | 6 | Black | 50 |
| 122670 | 2 | 70 MM | 7 | White | 50 |
| 122680 | 3 | 80 MM | 8 | Green | 50 |
| 122690 | 4 | 90 MM | 9 | Yellow | 50 |
| 1226100 | 5 | 100 MM | 10 | Red | 50 |