text.skipToContent
text.skipToNavigation
This site is optimized for Chrome, Edge, Firefox, and Safari. You may not have the best user experience in your current browser.
MAD Nasal™ Intranasal Mucosal Atomization Device - without Syringe
Product review summary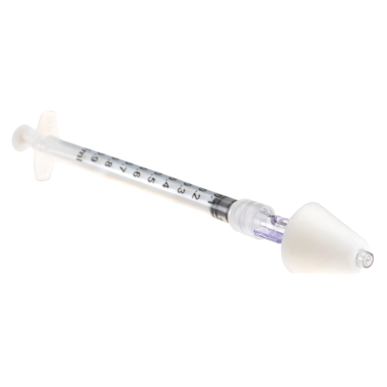 Representative image. Actual product may vary.
View All Additional Items
Please see the Instructions for Use for a complete listing of the indications, contraindications, warnings, and precautions.
MAD Nasal™ Intranasal Mucosal Atomization Device - without Syringe
The MAD Nasal™ Intranasal Mucosal Atomization Device is a safe and painless way to rapidly deliver intranasal medication.*
.
Key features include:
• The soft, conical plug on the tip fits within the nostril
.
Rapid absorption1
• Atomized nasal medications allow rapid absorption across mucosal membranes into the bloodstream, avoiding first-pass metabolism2
• The spray atomizes drugs into a fine mist of particles 30 – 100 microns in size
.
Patient comfort
• Non-invasive and needle free controlled administration
.
Controlled administration
• Simple delivery system — appropriate for both ALS and BLS
• Atomizes in any position
• No sterile technique required
.
*For use with drugs approved for intranasal delivery.
.
References:
1. Suresh M. Management of Predicted Difficult Airway in A Parturient Undergoing Cesarean Delivery, where Airway Management is Necessary. Shnider and Levinson's Anesthesia for Obstetrics. 2013;(24):381-382.
2. Corrigan M, Wilson S, Hampton J. Safety and efficacy of intranasally administered medications in the emergency department and prehospital settings. American Journal of Health-System Pharmacy. 2015; 72(8): 1544-1554
.
MC-007640
You may also be interested in…