text.skipToContent
text.skipToNavigation
This site is optimized for Chrome, Edge, Firefox, and Safari. You may not have the best user experience in your current browser.
MADgic® Laryngo-Tracheal Mucosal Atomization Device - with 3 mL Syringe
Product review summary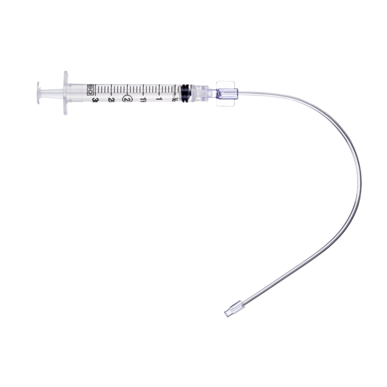 Representative image. Actual product may vary.
View All Additional Items
Please see the Instructions for Use for a complete listing of the indications, contraindications, warnings, and precautions.
MADgic® Laryngo-Tracheal Mucosal Atomization Device - with 3 mL Syringe
The MADgic® Laryngo-Tracheal Mucosal Atomization Device offers a versatile choice to administer medication* across the entire upper airway and beyond the vocal cords.
.
Key features include:
• Consistent, fine atomized spray for direct coverage of nose, pharynx, larynx and trachea
• Long, narrow stylet is designed to be gently curved and flexible, allowing it to reach a patient's vocal cords for targeted coverage
• Adapts to any luer-lock syringe
• Available in adult and pediatric sizes
.
Rapid absorption1
• Atomizes drugs into a fine mist
• Delivers particles at optimal size for rapid mucosal absorption1
.
Reduced cough
•In procedures where a cough upon emergence can cause adverse events, application of topical lidocaine on the laryngotracheal region has been shown to provide a smooth emergence from general anesthesia with reduced coughing2
.
Patient comfort
Adequate topical anesthesia has been shown to:
• Enhance patient comfort3
• Facilitate patient compliance3
.
*For use with drugs approved for intranasal and oropharyngeal delivery.
.
References:
1. Suresh M. Management of Predicted Difficult Airway in A Parturient Undergoing Cesarean Delivery, where Airway Management is Necessary. Shnider and Levinson's Anesthesia for Obstetrics. 2013;(24):381-382.
2. Diachun CA, Tunink BP, Brock-Utne JG. Suppression of cough during emergence from general anesthesia: laryngotracheal lidocaine through a modified endotracheal tube. Journal of Clinical Anesthesia. 2001 13(6):447-451.
3. Leung Y, Vacanti FX. Awake without complaints: maximizing comfort during awake fiberoptic intubation. Journal of Clinical Anesthesia. 2015;27(6):517-519
.
MC-007640
You may also be interested in…