text.skipToContent
text.skipToNavigation
This site is optimized for Chrome, Edge, Firefox, and Safari. You may not have the best user experience in your current browser.
Arrow® StimuQuik® Stimulating Peripheral Nerve Block Needle - 22 Ga, 1 in
Product review summary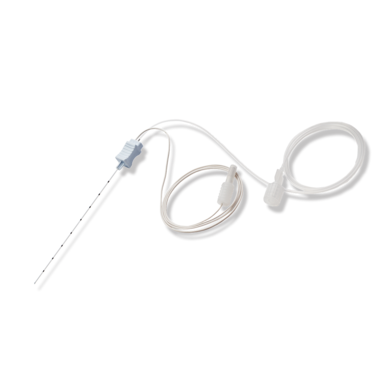 Representative image. Actual product may vary.
View All Additional Items
Please see the Instructions for Use for a complete listing of the indications, contraindications, warnings, and precautions.
Arrow® StimuQuik® Stimulating Peripheral Nerve Block Needle - 22 Ga, 1 in
Key features of the StimuQuik® Stimulating Peripheral Nerve Block Needle include:
• Insulated needle shaft with a stimulating tip allows for needle guidance using stimulation
• Designed with an atraumatic B-bevel tip for balance between tactile feedback and penetration
• Centimeter markings on needle shaft for visual confirmation of insertion depth
• Ergonomic needle hub for precision grip
• Extended length of injection tubing and electrical lead connections designed to help reduce the risk of contamination to the sterile field
MC-007641
| | | | | |
| --- | --- | --- | --- | --- |
| ITEM NUMBER | GAUGE | LENGTH (cm) | LENGTH (in) | CONNECTOR |
| AB-22025-SS | 22 | 2.5 | 1 | 2.0 mm pin |
| AB-22050-SS | 22 | 5 | 2 | 2.0 mm pin |
| AB-21090-SS | 21 | 9 | 3.5 | 2.0 mm pin |
| AB-21150-SS | 21 | 15 | 6 | 2.0 mm pin |