text.skipToContent
text.skipToNavigation
This site is optimized for Chrome, Edge, Firefox, and Safari. You may not have the best user experience in your current browser.
D-Stat® Flowable Hemostat
Product review summary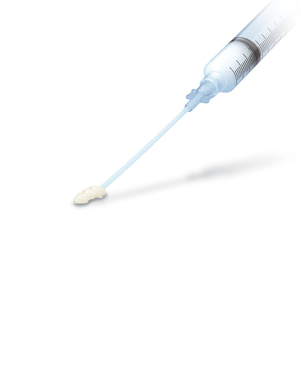 Representative image. Actual product may vary.
Please see the Instructions for Use for a complete listing of the indications, contraindications, warnings, and precautions.
D-Stat® Flowable Hemostat
INDICATIONS: The D-Stat flowable is indicated for use under the direction of a healthcare professional for the local management and control of bleeding from vascular access sites and percutaneous catheters and tubes. The D-Stat flowable is indicated for use as an adjunct treatment in sealing residual oozing of tissue tracts of femoral access sites that have been previously closed by suture/collagen-based hemostatic devices. D-Stat flowable is indicated for use in high-risk, anti-coagulated patients undergoing implantation of a pulse generator (e.g., pacemaker or ICD) to reduce the frequency of clinically relevant hematoma formation in the prepectoral pocket. High-risk patients are defined as those whose anticoagulation regimens will resume within 24 hours of implant. Clinically relevant hematomas are defined as those that result in an alteration in the standard of care resultant of hematoma formation including alteration (i.e. suspension or discontinuation) of the anticoagulant therapy regimen (Heparin, LMWH, Coumadin or Plavix), application of a compression bandage and evacuation of the hematoma. CONTRAINDICATIONS: The D-Stat is contraindicated in persons with known sensitivity to bovine-derived materials. WARNINGS: The effectiveness of D-Stat flowable to reduce the frequency of prepectoral pocket hematomas in patients on Coumadin therapy that have an INR >2.0 has not been established. Do not inject the D-Stat into blood vessels. Extensive intravascular clotting and even death may result. Intravascular delivery of flowable hemostatic agents has been reported. Appropriate imaging should be used when delivering hemostatic agents near vasculature. Do not use the D-Stat in the closure of skin incisions because it may interfere with the healing of the skin edges due to mechanical interposition of collagen. Do not use the D-Stat if pulsatile arterial blood flow is observed at the femoral artery access site previously closed by suture/collagen-based hemostatic device. This may indicate incomplete closure of the arteriotomy and may result in inadvertent intraarterial injection of the D-Stat. The acute onset of severely diminished or absent pulses in the limb treated with the D-Stat may indicate that inadvertent intraarterial injection has occurred. If this is suspected, immediately perform appropriate diagnostic and therapeutic procedures for thrombus dissolution/removal. Do not use the D-Stat to treat residual oozing of a femoral artery access site tissue tract if a venous sheath was placed directly adjacent to the site. Inadvertent venous injection may occur. The safety and effectiveness of D-Stat has not been established for use to control bleeding following organ or tissue biopsies. Use of D-Stat in this situation has been reported to result in pain, seizures, bile retention, tissue necrosis, vascular occlusion and death. 
WARNING: SEVERE BLEEDING AND THROMBOSIS COMPLICATIONS
- THROMBIN-JMI® can cause fatal severe bleeding or thrombosis. Thrombosis may result from the development of antibodies against bovine thrombin. Bleeding may result from the development of antibodies against factor V. These may cross-react with human factor V and lead to its deficiency.
- Do not re-expose patients to THROMBIN-JMI® if there are known or suspected antibodies to bovine thrombin and/or factor V.
- Monitor patients for abnormal coagulation laboratory values, bleeding, or thrombosis.
MC-007695 - Rev 1. Revised: 03/2022.
You may also be interested in…