text.skipToContent
text.skipToNavigation
This site is optimized for Chrome, Edge, Firefox, and Safari. You may not have the best user experience in your current browser.
Arrow® Percutaneous Cavity Drainage Catheterization Set - Curved Catheter
Product review summary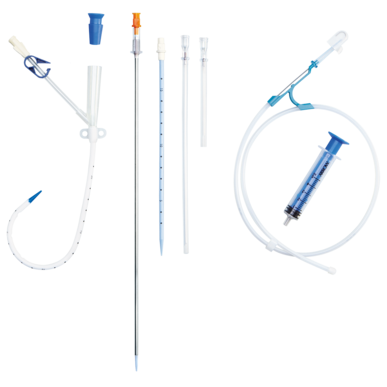 Representative image. Actual product may vary.
View All Additional Items
Please see the Instructions for Use for a complete listing of the indications, contraindications, warnings, and precautions.
The Cavity Drainage Catheterization Product permits percutaneous placement of a catheter into a cavity for drainage. 
The kit includes the following (Quantity: Item Description):
1: Drainage Catheter with Blue FlexTip® Curved: 14 Fr. x 9" (23 cm) Radiopaque Polyurethane with Integral Extension Line, Extension Line Clamp, Side Holes, Integral Suture Wing
1: Spring-Wire Guide, Marked: .035" (0.89 mm) dia. x 26-3/4" (68 cm) (Straight Soft Tip on One End - "J" Tip on Other) with Arrow Advancer™)
1: Straightening Needle: 11 Ga. x 10.50" (26.7 cm)
1: Introducer Needle: 18 Ga. x 6-1/2" (16.5 cm) TW
1: Introducer Needle: 18 Ga. x 2-1/2" (6.35 cm) XTW
1: Arrow® Raulerson Spring-Wire Introduction Syringe: 5 mL
1: Tissue Dilator 7 Fr x 12-1/2"
1: Tissue Dilator 12 Fr x 7"
1: Scalpel: #11
1: Adapter Plug
MC-007702 - Rev 1. Revised: 03/2022.
You may also be interested in…