text.skipToContent
text.skipToNavigation
This site is optimized for Chrome, Edge, Firefox, and Safari. You may not have the best user experience in your current browser.
Arrow-Clarke™ Pleura-Seal® Thoracentesis Set
Product review summary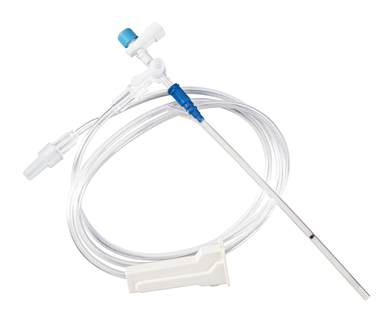 Representative image. Actual product may vary.
View All Additional Items
Please see the Instructions for Use for a complete listing of the indications, contraindications, warnings, and precautions.
The Arrow-Clarke™ Thoracentesis Device permits the removal of fluids from the pleural space and provides access to infuse chemotherapeutic or sclerosing agents. 
The kit includes the following (Quantity: Item Description):
1: Polyurethane Centesis Device: 8 Fr. Catheter over 18 Ga. x 7-1/2" (19 cm) RW Needle with 3-way Stopcock, Self-Sealing Valve and 5 mL Luer-Lock Syringe
1: 5cc syringe
1: Disposable scalpel (#11 blade)
1: Tubing set with roller clamp and 18G needle (vacuum bottle not included) 
MC-007702 - Rev 1. Revised: 03/2022.
You may also be interested in…